The Topp Twins in the Grand Ole Topp'ry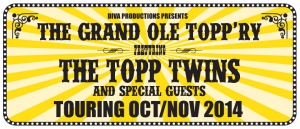 Well-loved New Zealand entertainers Lynda and Jools Topp are back on the road in October and November 2014 with a new show paying homage to country music greats, and celebrating original Kiwi country music.

Reminiscent of Nashville's Grand Ole Opry, the Topps' hilarious characters will host the show just as the Minnie Pearls did back in Nashville in the 1930s. Audiences can expect the best in country music from rockabilly to bluegrass, comedy and gospel, and even a visitation by Country Music Hall of Famers channelled in by the Topp Twins' alter egos.

The Grand Ole Topp'ry will feature the Topp Twins with award-winning country artist Tami Neilson, alongside other special guests including the all-girl Johnny Cash band, The Johnnys and Cameron Luxton (X Factor NZ contestant) and Kiwi legend guitarist Phil Doublet.

The 13-centre tour begins in Invercargill on Wednesday 1 October before heading to Dunedin, Oamaru, Timaru, Ashburton, Christchurch, Napier, Hamilton, Auckland, New Plymouth, Wanganui, Wellington and Palmerston North.

Lynda Topp says that just as Nashville's Grand Ole Opry has changed over the years, like the Topp Twins, it has remained a cultural institution.

"We wish to pay respect to the legends of country music who have gone before us and also acknowledge the next generation of musicians who have, like us, been inspired, by past greats,"

"Our take on the Grand Ole Opry (Topp'ry) will celebrate country music's diversity and will be a night of rollicking good fun, foot-stomping music to live by, and connection to something larger than ourselves."

Being held at the Civic Theatre, Invercargill Wednesday 1st October 2014
Adult: $75.00
Child: $69.90
Student: $69.90
Senior Citizen: $69.90

To buy tickets - 0800 484 253

For more information please visit www.topptwins.com