FAQs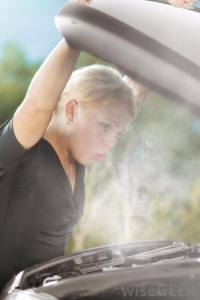 What do radiators do?
When the engine is running it produces a lot of friction and heat. The radiator uses coolant to keep the engine running at a healthy temperature, therefore the radiator prevents the car engine from overheating.
What are the tell-tale signs of a damaged radiator?
Steam coming out of the bonnet indicates an overheating engine and possibly a faulty radiator
A puddle underneath the car could indicate a leaky radiator
If the temperature gauge signals HOT, this may indicate a damaged radiator
What should I check for?
Check the coolant levels when your vehicle is COLD, it should sit somewhere between the min and max level. Check these levels often, as a sudden drop in levels could indicate a leak
Check there is no sludge build-up around the radiator cap or neck of the radiator
Check there are no leaks on the radiator core or tank
Check for signs of damage to the radiator and heater hoses, such as loose clamps or deterioration
How do I tell if my radiator is faulty or if there's something else wrong with the car?
A pressure test will determine this, just call into your local ADRAD Radiator Agent to have this done.
Why do radiators need repairing or replacing?
Radiators may become damaged over time due to corroded tubes, faulty seals or a cracked tank. Like many essential car parts, radiators need to be repaired or replaced so that the vehicle can function properly.
Many radiators only need the faulty part repaired. However, if your radiator was a cheap after-market product your best bet is to replace it before the unit fails completely and damages your vehicle.
Talk to your local ADRAD radiator Agent to discuss the best option for you.
Why should I go to an ADRAD Radiator Agent when there are cheaper options out there?
There are many cheap radiators imported into New Zealand, These are often mass produced using inferior materials and sub-standard techniques. These may seem appealing as they're cheap, but they can quickly end up costing a lot more than a quality one. Therefore, buying a quality radiator is a decision you won't regret.
You can trust the ADRAD radiator Agents to supply you with the best quality radiator produced by trustworthy and established manufacturer – after 80 years in the business, Adrad National Radiators are the experts!