Malcolm Brown - Director/Manager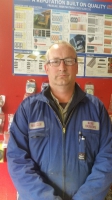 With more than 20 years experience building and repairing radiators. Malcolm is one of a small number of qualified radiator servicing tradesmen. He was well taught by the former owner Bruce Muir who in turn was taught by the original founder of the business, Bert Muir.
Malcolm is responsible for everything related to the business and in particular for the quality of all products produced at Muirs Radiators. Malcolm has extensive experience relating to the manufacturing and repair of radiators from heavy industrial through to private motor vehicles. Added to this is his extensive knowledge of cooling systems, the chemical reaction that occur in the coolant system.
Malcolm's reputation for producing products of the highest quality complements the high levels of craftsmanship applied to every job.
Malcolm is a family man. He and his wife Joanne have three children and two grandchildren. He enjoys family activities and outdoor pursuits. He is a member of the Calvin Community Church, and he enjoys restoring classic cars. Him and one of his sons are in the middle of restoring his EK Holden.